Engage Your
Frontline Workers
in Mining
.
"The Wyzetalk team are responsive, ready to tailor aspects of the solution to work within the complexities of our global business"

- Principal Digital Media & Collaboration, Global Mining Giant
Industry Experience
.
In the Mining industry, we have a proven track record of improving internal communications, enhancing process efficiencies to save costs, decreasing safety incidents and increasing labour productivity.
Safety

The Challenge

In the mining sector, a poor safety culture can lead to injuries, significant financial losses due to work stoppages and even the tragic loss of life.

The Solution

Wyzetalk's safety solution enables you to build a strong safety culture by providing employees with access to critical safety information, protocols and training at a click of a button. It enables them to log incidents and hazards, empowers them to track their own safety statistics and incentivises them to practice safe behaviours.

The Impact

Employees empowered to take responsibility for their and their team's safety.
Enhanced ability to track employee safety awareness and learning achievements.
Increased ability to drive positive behavioural change.
Decrease in safety incidents over time.

Community Engagement

The Challenge

Mining companies cannot survive without a license to operate. Thus, effective community engagement and stakeholder relationship management are vital.

The Solution

Wyzetalk's communications solution enables you to communicate directly with key stakeholders and communities in an instant. You can target information, campaigns and messages to a whole group or specific segments, solicit community feedback through surveys or digital suggestion boxes and even enable community members to access information on job vacancies or make job applications.

The Impact

Improvements in community engagement.
Enhanced understanding of community dynamics and needs.
Increased community empowerment.

Operational Efficiency

The Challenge

Cost reduction and increasing operational efficiencies is central to the success of mining operations but is not always easy to achieve.

The Solution

Wyzetalk's operational efficiency solution enables you to digitise a number of critical processes that create administrative burdens, drive up costs and decrease productivity including payslips, leave, schedule management, job vacancies and applications, as well as providing employees with easy access to up-to-date critical HR information such as personal benefits and records of service.

The Impact

Decrease in operational drag by eliminating the time taken by employees in queuing to collect printed documents and HR staff in printing and distributing paper documents.
Significant operational savings due to the elimination of paper, printing and distribution costs.
Employees have easy and quick access to their own personal HR information thus making their work and personal lives easier.
"The Wyzetalk team are responsive, ready to tailor aspects of the solution to work within the complexities of our global business and provide solutions to complex challenges. They bring a wealth of knowledge and experience on how to deliver a business platform that our employees will want to engage with. Delivering a single communication and engagement tool to our 60, 000+ frontline staff spanning the globe whilst catering for variance in culture and languages, remoteness of the operations and both central and localised requirements is a mammoth endeavour."
Principal Digital Media & Collaboration, Global Mining Giant
Digital Innovation in Mining
Agile and innovative, the Wyzetalk platform, enabled Implats to automate the process of applying for travel and work permits for their employees. This improved efficiency and the employee experience for their frontline workers by eliminating the need for printed permits. It also eradicated the costs and time spent on repeated…
See Video
Client Success Story
.
The Client
A large mining and explorations company, having recently procured another global mining operation, with over 46,000 widely dispersed employees 35,000 of whom are miners and frontline workers located at 13 different mining sites.
The Challenges
To effectively communicate with an existing and newly procured workforce following the purchase of another large-scale mining operation.
Establish a means to receive direct feedback regarding the daily challenges faced by employees – especially those working long shifts underground in hazardous conditions.
Creating a better working environment and ultimately building trust with their dispersed workforce.
Ensuring that employees remain safe and informed throughout the ongoing COVID-19 pandemic.
Wyzetalk Solutions
Mobile-first technology to communicate critical corporate messages with all employees, including the non-desk workers.
The sharing and receiving of information via USSD, a mobi-site, and a customisable app.
The ability to communicate with a dispersed workforce at the same time, as well as to communicate with miners individually, or to groups at a specific site.
Branded solution allowing for employee feedback via surveys.
In-app COVID-19 screening on entry of site.
The Results Achieved
The Wyzetalk solution ensured a smooth transition for all employees after the procurement of another large-scale mining operation. The platform solution ensures that employees feel informed, engaged, and connected to the company resulting in a successful ownership change process.
Employees are able to provide feedback via multiple surveys, highlighting any problem areas so that the company is able to resolve them timeously and prevent disputes and strike action.
More effective communication has allowed for operational inefficiencies to be addressed at the same time.
A culture of trust has also been created within the organisation and has seen more than 2.4 million interactions with the mental health section of the app recorded. Employees are also being kept safe from COVID-19 with 2.8 million screening processes completed by employees since the start of the pandemic.
Get the Full Detail Here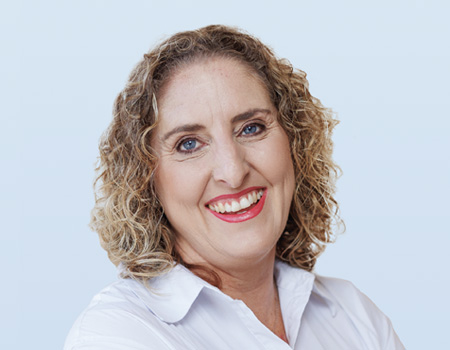 "I am passionate about helping companies achieve their performance targets by helping them to communicate, engage and motivate employees towards a more productive outcome that wins at both individual achievement and bottom-line results."
Kerryn-Leigh Anderson
Head of Change and Commerce
Expertise:
Bio:
Kerryn-Leigh is a communication specialist with over 22 years of experience in various sectors including mining, developing corporate brand strategies, communication, and campaign strategies, and implementing communication solutions.