There's no playbook for crises like the one we're witnessing right now with the COVID-19 pandemic. Organisations are under pressure to make complex decisions and act quickly to keep employees safe, so that operations can continue. This is no easy task when faced with the unknowns of how this will impact on your business and your dialogue with workers.
That's why we've decided to put together a free COVID-19 Crisis Communications Starter Kit – useful information at your fingertips without needed to part with your contact details. As the leading digital employee engagement solution, we carry a responsibility to assist businesses as far as we're able to, and we've been working with our clients over the last few weeks to manage the crisis effectively in the following ways:
Message Everyone
Get the right message to the right person at the right time on site closure status, shifts and entry protocols (e.g. breathalysers).
Share Content
Alert employees to COVID-19 information, FAQs, symptoms to look for, preventative measures and emergency responses.
Gather Feedback
Manage questions from employees and escalate indications of COVID-19 illness within the hour, using our 24/7 support centre.
Business Continuity Framework
A business continuity framework is fundamental to getting set up quickly and being able to communicate with employees at the click of a button. The infographic below shows Wyzetalk's business continuity framework which demonstrates what it looks like and how the various elements piece together: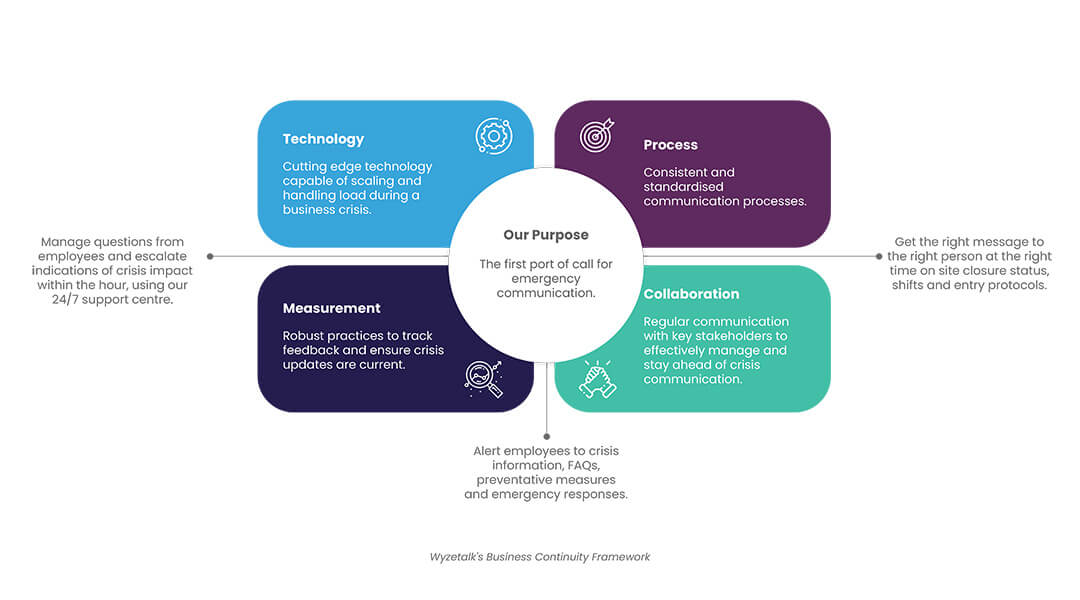 A single digital channel
The most critical of employee engagement tools in the hands of employers right now, is a single digital channel that reaches everybody in the organisation – including those on the frontline out at sea, underground or in the field. This always-on channel needs to be positioned as a central, trusted source of information and company communication relating to the crisis. A basic content structure for COVID-19 could look like something like this: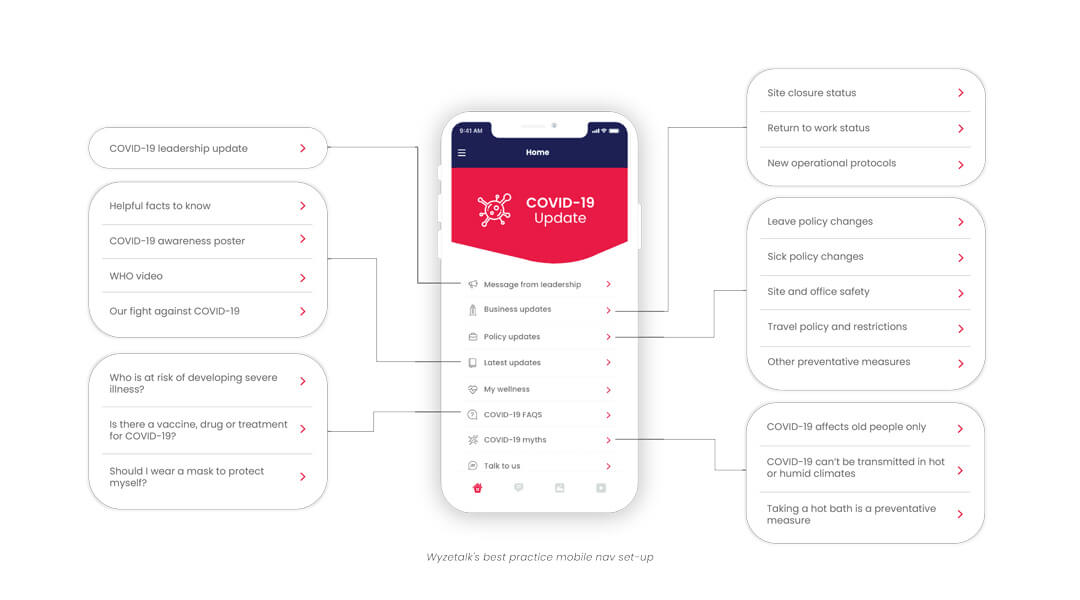 Once the structure is in place it becomes a lot easier to share relevant content, information and company updates. The true character of an organisation shines through in times of crises, and it's a critical opportunity for employers to build trust and confidence with their employees.
Content is still king
For the greater workforce who come from diverse backgrounds and varying levels of education, it's vital that the content being shared can be easily understood by anybody. Video is still one of the most impactful mediums through which to communicate. We have found that even a message from the CEO encouraging employees not to panic, and assuring them that the company has a well thought out plan can be enormously effective in maintaining a sense of order. Our design team is poised to assist clients with the curation of their content into digestible snippets through visual explainers and infographics.
Feedback tracking and measurement
Possibly the most critical component to a COVID-19 critical communications starter pack is a digital feedback channel where employees can ask questions, raise concerns and even highlight if they are symptomatic or have been tested positive for the virus. Wyzetalk has a 24/7 support set-up where feedback can be monitored, and emergency response protocols implemented by escalating "code red" feedback to the right management team within the organisation.
If you have found our free COVID-19 Crisis Communications Starter Kit to be useful and would like to reach out to someone on our team to find out how Wyzetalk can help you during this global pandemic, please send an email to engage@wyzetalk.com