A Positive Retail Employee Experience Equates to a Better Customer Experience
Retail employee experience refers to a worker's impressions based on their interaction across all of a company's touchpoints. The physical environment, corporate culture and technology are all key aspects of the employee experience.
Enhancing the employee experience improves employee engagement, which in turn offers various advantages, such as lower absenteeism, increased productivity and improved customer relations. The latter is a particularly important element in the retail environment.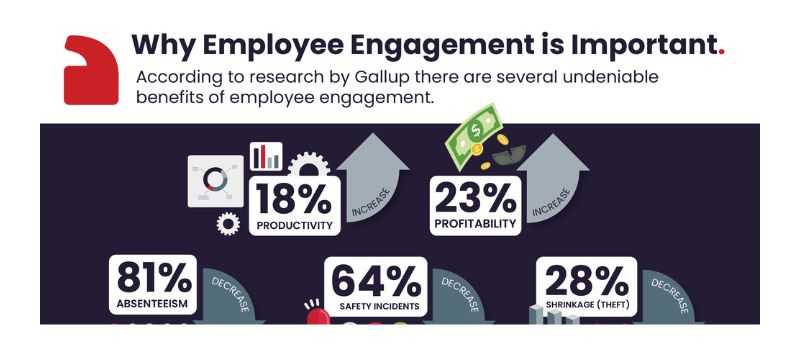 Employee Experience is everything!
Through a personable approach and positive attitude, employees communicate your brand values more clearly than any other channel. Frontline retail employees are your brand's biggest advocates and the likelihood of them offering customers a great experience hinges to a large degree on these individuals being buoyed by a positive employee experience.
As far as the customer experience is concerned, there are countless make-or-break moments for retailers, from the time the customer walks into the store to the moment they take their bags and leave. Frontline retail employees make the first and final impressions on customers, whether it's educating them about discounts, helping them discover items, or assisting them with the payment of their purchases.
The message is simple: get your retail employee experience right and your customer experience will follow suit. Research shows retailers who offer great customer experiences grow revenues 4-8% above market share. A positive experience also builds loyalty turning customers into promoters with a lifetime value of 6 to 14 times that of detractors.
Retail employee experience solutions unlock potential
So, where does one begin with creating a world-class retail employee experience? One of the first steps is to understand the difference between employee experience and employee engagement. It is generally accepted that the employee experience encompasses everything an employee thinks, feels, and sees, while employee engagement, in turn, relates to how enthusiastically an employee is involved in or devoted to their work. Employee engagement is thus one of the outcomes of the overall employee experience and is often closely linked to productivity and service levels.
The Right Tools for the Job
Workplaces that encourage dialogue, build diverse teams, promote work-life balance, and invest in technology that is both productive and user-friendly, have some of the hallmarks of companies that are striving to implement employee engagement solutions.
At Wyzetalk we also know that employee engagement is not a once-off undertaking and needs constant management to ensure it remains at beneficial levels for all stakeholders. Our digital employee experience solutions assist in the achievement of corporate objectives by providing a deeper knowledge of the relationship between employee engagement and operational performance.
Continuous enhancement of the client experience is critical to success in a highly competitive sector like retail. However, the importance of employees and their engagement levels in delivering outstanding customer service is frequently ignored. Employee engagement solutions can bridge this gap.
Our branded digital employee experience solutions cater for the needs of various retail environments and the employees who are behind the success of these businesses. These employee engagement solutions let you rapidly and easily gather data, categorise findings, and uncover patterns, as well as provide insights and recommendations for management actions that will enhance business performance.
Our employee engagement solutions help your employees perform at their peak in the following ways:
Getting the right message to the right employee at the right time sponsors better workplace alignment and ensures customer communications remain on message.
Internal communications must be two-way rather than top-down and one-way, in order to be effective. Conducting culture, engagement or employee experience surveys allows you to determine what workplace factors your employees are currently finding challenging and how they can be addressed to ensure customers continue enjoying high-quality service.
Natural disasters and product recalls are a fact of life, keeping your employees informed of critical developments helps them better serve customers.
Retail work can be demanding and time-consuming. Employee engagement solutions digitise simple human resources activities like scheduling leave, checking payslips and other administrative activities, freeing up more time to focus on customers.
Employees should be focused on serving clients and ideally not spend too much time away from frontline service opportunities. Our employee engagement solutions offer micro-learning channels that overcome the limitations of traditional physical training programs by allowing employees to acquire skills on the move.
Key Takeaways
Identifying and implementing impactful retail employee experience solutions has been a years-long challenge for retailers. In fact, since Gallup began measuring employee workforce engagement in 2000, less than one-third of workers in the United States have been engaged in their work, resulting in a negative impact on the customer experience and company profitability.
Wyzetalk can help you better interact with your frontline retail workforce with our customised employee engagement solutions, leading to an improved retail employee experience and ultimately a top customer experience. Talk to an expert today to find out more.