The Great Resignation, the term used to describe the 19-million US workers that have resigned since April 2021, has also reached other parts of the world. Survey findings released by Remchannel, a leading reward management platform, confirm that some of the reasons for increasing resignations "include longer working hours, fewer opportunities to take leave and a toxic workplace culture." COVID-19, and its effects on working conditions, have exacerbated feelings of discontent and disconnect among employees, particularly those on the frontline.
However, the recent increase in employee attrition can't solely be attributed to cited Covid-19 fatigue, work-from-home scenarios, longer working hours, and lack of or disappointment with pay increases.
Other factors to consider are communication and engagement from management, particularly in the case of frontline workers. In research carried out by global communications agency, Tribe, 72% of the frontline workers said they felt that communication from their top management was important to them. However, 84% mentioned that "not enough" information comes from the top, with 24% saying that they heard from corporate "a few times a year" and 34% "hardly ever".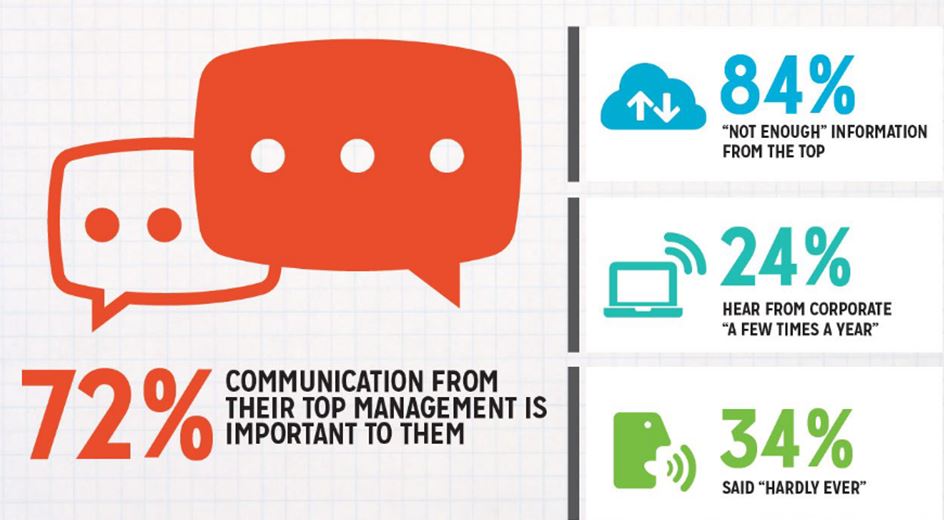 Frontline workers have little to no access to computers on a day-to-day basis, so company email is not a suitable communication method. Some organisations have centralised areas, such as noticeboards, where information is shared, but these are often not updated. Using paper-based systems to share information with frontline workers has proved to be ineffective and inefficient, not to mention costly.
But the financial implications run deeper than just printing and paper.
The Real Cost of Disengaged Employees
According to Gallup, 'It takes more than a 20% pay raise to lure most employees away from a manager who engages them, and next to nothing to poach most disengaged workers." And, says the same resource, this scenario costs the US economy between US$450-billion and US$550-billion per annum in lost productivity. Furthermore, findings from Anvl indicate that disengaged employees waste 34% of their salaries, and by implication enterprises' profitability, through low productivity, absenteeism, negativity and other behaviours that could adversely affect their job performance.
What is the Solution?
It's becoming evident that frontline employees' disengagement is deepening in the contemporary world of work, exacerbated by Covid-19 pandemic disruptions. By implementing digital employee experience solutions for a variety of clients, Wyzetalk has enabled 700 000 widely dispersed frontline workers to connect daily with their employers. Wyzetalk's three-channel, (USSD, mobi and app) platform can be accessed by desk and non-desk employees, either via feature or smart phone, wherever they are, ensuring that communication channels are open to ALL employees.
The Wyzetalk mobile platform can also be used as a targeted communication tool, meaning that the right message gets to the right person at the right time. It can directly inform all, or a specific workgroup, of company activities and directives. This also works in reverse: employees can provide organisations with invaluable input from surveys feedback to ideation. This ensures that employees feel heard and cared about.
Another area where the Wyzetalk solution fosters employee engagement is through peer-to-peer communication, which embraces the social interconnections of workforces by providing a collaborative and effective communication channel. Peer-to-peer communication helps build morale across the organisation. Employees have the freedom to share real-time workplace experiences, acknowledge birthdays, and truly engage with each other about relevant business-appropriate communications.
Using the platform, workers can track and monitor their individual and team progress or that of other teams, receive digital salary slips, apply for leave, engage with safety dashboards, and receive training, among other features.
All of which goes a long way to fostering connection and reducing feelings of workplace alienation. In fact, research shows that employees who feel they have a voice within the company are 4.6 times more likely to perform their best work.
According to research, 64% of frontline workers are so dissatisfied with their work environment that they are considering quitting their jobs, so the time for organisations to begin engaging with their alienated frontline workers is now. Companies that do will see that not only does quality, targeted, digital engagement streamline frontline communications, it helps reduce discontent and disengagement leading to long-term increases in loyalty and retention.
Implementing the Wyzetalk solution not only connects the most disconnected frontline employees by engaging them, but it also helps to better the overall employee experience and boosts productivity, by providing tools that improve the day-to-day work lives of employees.
Talk to an Expert to find out more about the Wyzetalk solution.