Betrek uw frontlijnpersoneel in de
retailsector
.
'Als je met Wyzetalk samenwerkt, heb je niet het idee dat je met een serviceprovider te maken hebt. Ze zijn eigenlijk een verlengstuk van ons team.'

– People Director bij een internationale retailer
Ervaringen uit de praktijk
.
Onze klanten binnen de retailsector profiteren enorm van ons universele, mobiele platform, onze oplossing voor micro-leren en de digitalisering van meerdere processen wat leidt tot een verbeterde efficiency.
Klantervaring

De uitdaging

In een sector zoals de retail, waarin de concurrentie hevig is, is het voor het succes van een organisatie van groot belang dat de klantervaring continu wordt verbeterd. Het komt maar al te vaak voor dat het effect dat werknemers en de werknemerservaring hebben op een uitmuntende klantervaring over het hoofd wordt gezien.

De oplossing

De oplossing voor werknemerservaring van Wyzetalk zorgt ervoor dat u, met één klik, gegevens kunt verzamelen met betrekking tot verschillende werknemerservaringen en deze kunt koppelen aan kritische operationele kengetallen. Hierdoor krijgt u inzicht in het effect dat de werknemerservaring heeft op de klantervaring.
Ook wordt duidelijk waar u het beste in kunt grijpen om de resultaten te verbeteren en kunt u volgen of deze ingrepen het gewenste effect sorteren.

Het resultaat

Beter inzicht in de werknemerservaring.
Betere mogelijkheden om het effect van de werknemerservaring op de resultaten te beheersen.
Op den duur een verbeterde klantervaring.

Operationele efficiëntie

De uitdaging

Effectief personeelsmanagement is van essentieel belang voor een betere kostenefficiëntie en een optimalisatie van de winkelresultaten. Om dit te kunnen bewerkstelligen, is een efficiënt personeelsplanningssysteem nodig dat u in staat stelt om met één druk op de knop lastminutewijzigingen door te voeren.

De oplossing

Met de oplossing voor roostermanagement van Wyzetalk kunnen werknemers eenvoudig en direct digitaal toegang krijgen tot hun (stand-by)rooster. Zo weten ze altijd wanneer ze staan ingepland en zijn ze binnen enkele seconden op de hoogte van eventuele veranderingen. Weten wie er stand-by staat geeft leidinggevenden ook beter de kans om snel aanpassingen te doen wanneer er iets onverwachts gebeurt.

Het resultaat

Minder gaten in het rooster of dips in de productiviteit.
Werknemers kunnen beter hun tijd inplannen.
Leidinggevenden kunnen beter inspelen op onverwachte (rooster)situaties.

Scholing

De uitdaging

Een van de belangrijkste uitdagingen in tijden waarin bedrijfsmodellen veranderen en digitalisering steeds verder toeneemt, is hoe werknemers het beste kunnen worden bijgeschoold en hoe alle veranderingen en nieuwe werkmethodes in goede banen kunnen worden geleid.

De oplossing

De multimediale oplossing voor micro-leren geeft werknemers op ieder tijdstip en vanaf iedere locatie toegang tot hun eigen leeromgeving. U kunt de leeromgeving zo vormgeven dat de toegang ertoe kan worden gesegmenteerd naar bepaalde groepen werknemers die gekoppeld zijn aan maatwerk leertrajecten. Werknemers kunnen aan het einde van iedere module een toets maken en ze kunnen feedback geven op hun eigen leerervaring.

Het resultaat

Versneld leerproces, omdat werknemers overal en altijd de leeromgeving kunnen benaderen.
Verbeterde leereffectiviteit vanwege de feedback die werknemers geven op hun eigen leerervaring.
Verbeterde mogelijkheden om de leerprestaties door heel het bedrijf te volgen door middel van een centrale, digitale opslagplaats.
Testimonial
.
'De grens tussen communicatie en training was altijd heel duidelijk toen we nog lesgaven in lokalen. Tegenwoordig heb ik geen zin meer om uren in een lokaal te zitten en informatie tot me te nemen die ik misschien nooit meer ga gebruiken, tenzij ik een officiële studie volg. Ik wil leren wat ik op dit moment ook écht nodig heb of alleen weten wat de belangrijkste dingen zijn. De app is voor dit soort micro-leren een geweldige uitkomst. We hebben de app, die in eerste instantie alleen gebruikt werd als communicatiemiddel, uitgebreid en deze ingezet als onderdeel binnen de leermethodes in ons digitale leertraject.'
– People Director bij een internationale retailer 
Succesverhaal van een klant
.
De klant
Een grote internationale retailer die bijna honderd jaar geleden is opgericht. Binnen de organisatie, met bijna vierhonderd winkels verspreid over het land, werken 34.500 werknemers waarvan er 26.501 in de frontlinie werken.
De uitdagingen
De productiviteit verhogen en de processen stroomlijnen door middel van een digitale leeromgeving voor duizenden werknemers in de frontlinie.
De productkennis verbeteren en nieuwe werkmethodes introduceren via een digitale leeromgeving in plaats van trainingen in een fysiek lokaal.
Het digitaliseren van processen, zodat de nauwkeurigheid tijdens het leer- en evaluatieproces verbeterd kan worden.
De behoefte aan één overzicht over de voortgang en de leerresultaten.
De uitrol van kritische systemen tijdens de coronapandemie.
De oplossing van Wyzetalk
Een geautomatiseerde oplossing, inclusief een makkelijk te doorlopen leertraject, waardoor het leerproces wordt versneld.
Werknemers krijgen vooraf toegang tot leerstof en tot alle informatie die ze nodig hebben ter voorbereiding op een toets.
Multimedia-content, waaronder tekst-, video- en geluidsbestanden, die werknemers kunnen raadplegen als ze daar behoefte aan hebben.
Digitaliseren van ouderwetse processen en de voortgang van werknemers.
De mogelijkheid om via enquêtes belangrijke feedback te krijgen van werknemers, zodat er waar nodig verbeteringen kunnen worden doorgevoerd.
De introductie van één centraal punt van waaruit de voortgang, de toetsing en het slagingspercentage gevolgd kan worden.
De behaalde resultaten
Wyzetalk heeft de inefficiëntie die gepaard ging met het handmatig volgen van het leertraject van werknemers weggenomen en het hele proces geautomatiseerd. Dit scheelt het bedrijf veel tijd en geld.
Het digitaliseren van het leerproces heeft er ook voor gezorgd dat het personeel het gevoel heeft dat zij meer controle hebben over hun eigen leerervaring, waardoor ze gemotiveerd zijn om te blijven leren en zich verder te ontwikkelen.
De implementatie van de leeromgeving in de vorm van een app heeft er ook voor gezorgd dat deze grote retailer tijd en geld bespaart en dat het personeel beter opgeleid is. Het hoofdkantoor heeft nu dankzij alle informatie, toetsen en slagingspercentages die centraal worden opgeslagen een compleet overzicht van de leerervaring, zonder dat ze papieren dossiers hoeven door te spitten. Bovendien hebben ze inzicht in de gebieden waar het personeel nog wat meer scholing nodig heeft en kunnen ze zien waar het al wel goed gaat.
Bekijk hier alle details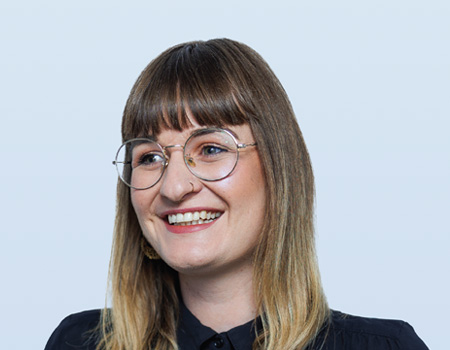 "I am passionate about helping organisations create innovative solutions that will drive operational efficiency and enhance the employee experience of all frontline workers."
Maak kennis met de Specialist
.
Kelsey Hellens
Head of Customer Success
Expertise:
Bio:
Kelsey has 9 years of experience working in various communication roles. As Manager: Content Management Services, she is responsible for developing and managing client relationships and providing strategic direction. As our manufacturing expert, Kelsey ensures that Wyzetalk's clients in this industry are equipped with the right solution for their specific business needs.